Wings and Wheels
Please extend to all of your membership this invitation to spend Saturday, August 17, 2019 with us at the 3rd Annual Wings and Wheels at Richland Airport (KRLD), Richland, Washington, hosted once again by The Port of Benton.
We are spreading the word to over 100 organizations from Washington, Oregon, Idaho, Montana and British Columbia and after an turnout of nearly 2,000 at our 2018 event, we expect this years' event to be even bigger. Once again, admission to the public and participants is FREE and entry of aircraft and vehicles for judging is FREE.
With military vehicles and warbirds, vintage cars and trucks, antique aircraft, modern show machines, motorcycles, hot rods and experimental aircraft we expect there to be something for everyone to appreciate. EAA Chapter 391 will be hosting a pancake breakfast from 7:00 to 9:30, and multiple food trucks and vendors will be on location for the remainder of the event. Hope to see you there!
For more information, please contact Scott Urban at (509) 551-0432 or John Haakenson at (509) 375-3060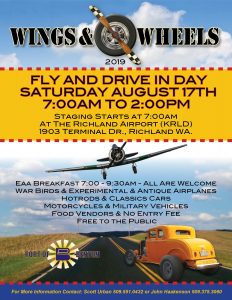 Comments Off

on Wings and Wheels
Comments are closed.
Search
Site
Current
Weather
Po
lls
Loading ...
Recent
articles
Pa
ges
Li
nks
Airports
Aviation Advocacy
EAA
Forums
News
Plane/Kit Manufacturer
Sport Pilot
Young Eagles