Minutes from August 4th Meeting
Meeting Notes for August 4th, 2010
The meeting started at 6:00 with our normal BBQ hamburgers and hot dogs, salad, chips and cookies. One of the old refrigerators gave up the ghost, but we still had enough for a good feed!
Meeting called to order at 7:00:30 PM by President Ben Hallert with V.P. Bill Dewey and Sec./Tres. Randy Stout present also. The 20 members and guests in attendance then introduced themselves and gave a brief "What exciting thing happened this last month". Among the guests were Joe Boylan (Rusty Bartels son-in-law), Richard and Shelly Van Leuban (owner of 9 mostly experimental) from Lebanon, and John Wagner, his second meeting.
The next Chapter 31 breakfast will be held on Saturday, 21st of August. It was noted by Dave Petersen that the garbage needs a bit more attention. He also asked everyone to remember that we need to defrost the refrigerators every 6 months or so.
The YE flying event will be held on September 11. Dave asked everyone for a little clean up help with the clubhouse prior to the event. Since this is the 2nd Saturday, we need to remind everyone that breakfast will not be on the 3rd Saturday as the YE event will also be our monthly breakfast event.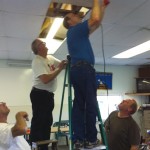 Walt and Randy had all the parts this time (with the exception of the finishing stuff) so the projector bracket project is now (mostly) complete. We now have a 98" widescreen for viewing computer type screens, and over 106" widescreen for movies. SWEET!!
The Memorial Area plans are progressing.  As noted before, we received a copy of a letter from Paul Ehrhardt, a retired contractor, who has offered to help with this project. He had actually approached the City Council a year ago, but nothing came of it. Randy contacted him and he expressed an interest in furthering this project. Several board members and other interested people will meet with him in August or September to see how next to proceed.
In a previous meeting, Brent Burgess had provided the club with info on Samantha Thomas, a young lady very interested in aviation and the aviation camp at LCC this August 9th to 13th. The cost is $490 and includes 3 hours of flight training. The board is still trying to create a process of establishing a scholarship fund for a kid or kids to go to aviation camps. With that in mind, the officers are asking anyone who also knows of a worthy family to forward this info to Ben. Unfortunately, no process has yet been approved for this years camp.
Member Tom Urban (541-741-4117) still has a Wag Aero 2+2 (PA-14 clone) for sale. It has most parts, the fuselage is welded and ready. He reports that the parts would sell for $20,000 from Wag Aero, but he only wants $8000. He also has a run out 0-320 core for $3800.
Bill Dewey has reminded everyone that the painting on the new patio cover needs to be done ASAP, as the weather will not last forever. Dave Eason mentioned he would run this project, but he was absent (and unable to defend himself -heh-heh), so hopefully when he sees this he will grab his brush and helpers and slap some stain on.
A brief report on Oshkosh 2010 was given. Since no one at the meeting actually attended, this second hand report will have to do until someone who was there can give a more thorough glimpse at the activities. Suffice to say that Steve Kretsingers 1936 Taylor J-2 won a plaque and had a nice photo shoot. Look for it in an upcoming issue of Sport Aviation or Vintage Aviation.
Another brief report on the just completed OACAC Oregon Air Tour was given by Daniel Cathy. A great time was had by all. The weather changed 50 degrees from one stop to the next, which was a challenge to everyone's wardrobe and constitution.
President Ben then fired up the new Big Screen TV and gave a demo on how to log onto the web site and post. We also had a few short videos and very funny pictures. This is going to be fun!! Bring something on DVD, thumb drive or whatever to next months meeting. Surprise us!! (no- none of that kind of stuff Dave)
There being no new business, the meeting was adjourned at 8:51 PM .
Respectfully submitted,
Randall Stout
Secretary/ Treasurer